Pilot training is ongoing within the Black Sea Hub on Experiential Tourism
A pilot training started with the beginning of the New year 2022, within the "Black sea hub on experiential tourism", established within the PRO EXTOUR project. The training's main topic is the development and presentation of a tourist product or service, focused on the heritage and culture. In general, the course agenda includes a series of meetings of the training participants and the experts from the hub, development of a team project as well as visiting similar operating sites.
Within the first training session, the participants talked about the experiential tourism in general and discussed what are the emotions it induces. They also tried to identify what added value such an experience gives us. Last but not least, each of the participants shared an interesting story from a personal travel, that way even, if only in their imagination, they went on a walk around different destinations throughout the world. The stories were necessary for further discussions on how to properly conduct experiential tourism.
In the next few sessions the participants in the "Black Sea Hub on Experiential Tourism" discussed the essence of entrepreneurship, product innovations and emotions that attract the tourist. Gradually the participants started forming ideas, following which the time came for them to get to know the main methods for entrepreneurial analysis. During the last week the participants and their lector prof. Dimitrina Kamenova talked about the awareness skills which develops abilities for seeking and noticing "the new". During this lecture they understood how to find, identify and manage innovations, and how to market their products and services on their own in a new, interesting and attractive way. In their last session for the moment, the participants together with assoc. prof. Preslav Peev talked about cultural heritage. During the lecture they also paid attention to the fact that it can be not only tangible, but also intangible.
The training within the "Black Sea Hub on Experiential Tourism" keeps moving forward.
Keep following us for more information on the website of the project – proextour.eu, as well as on the Facebook page of the hub.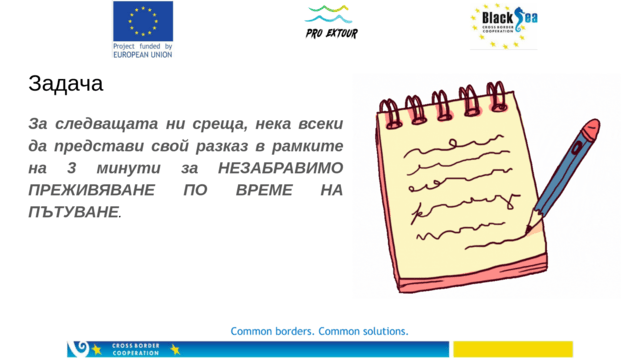 326 total views, 1 views today